** Turkey and Syria Appeal**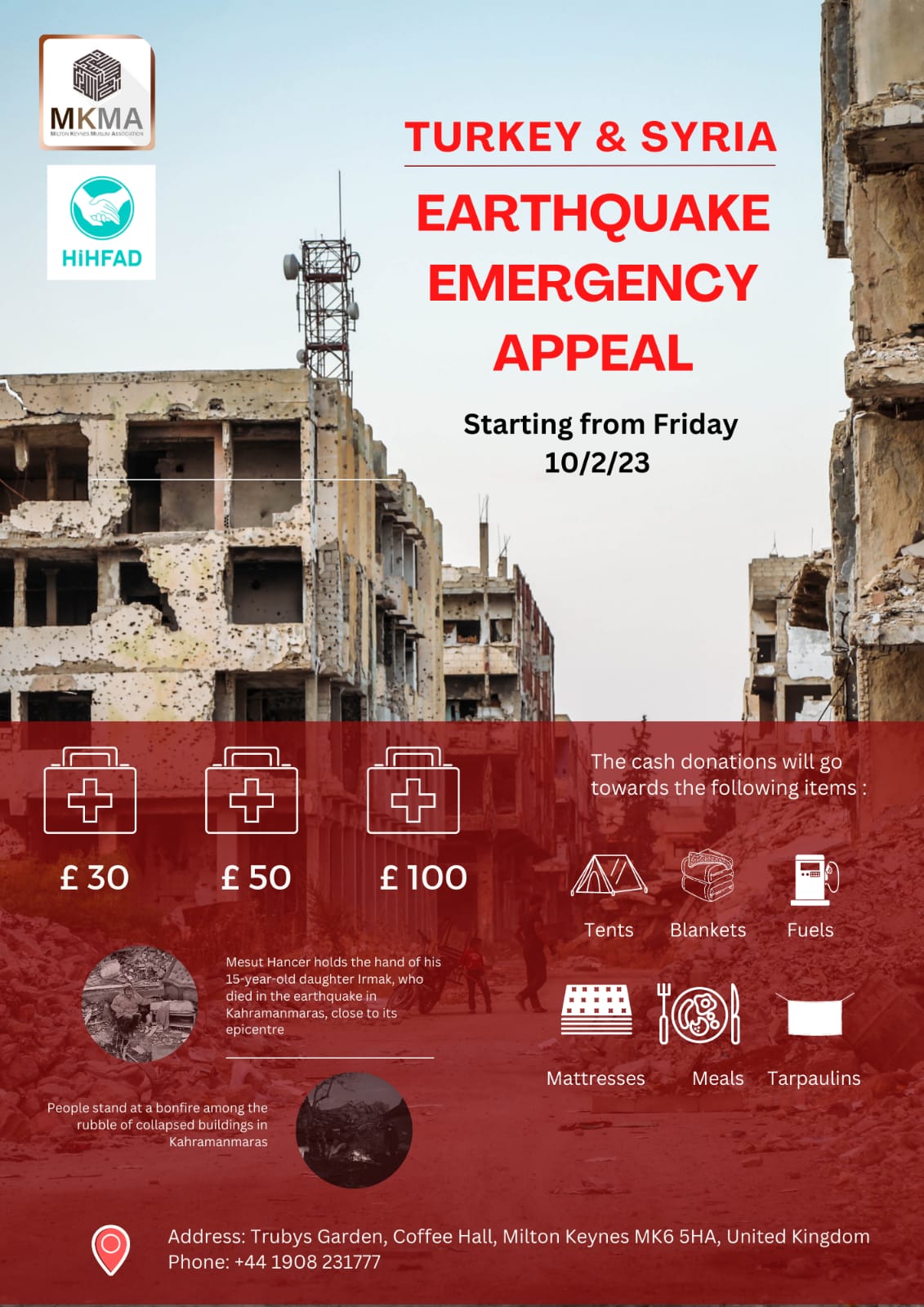 ** Turkey and Syria Appeal**
Dear Brothers and Sisters in Islam
The world has witnessed a devastating earthquake that has struck the lands of Syria and Turkey, leaving behind a trail of destruction, pain, and suffering. Our hearts go out to all those affected by this tragedy and we ask Allah (SWT) to grant them patience, healing, and peace.......
As Muslims, it is our duty to support and help those in need, especially in times of crisis. The situation in Syria and Turkey is dire and requires our immediate attention and support. The people there are in desperate need of food, shelter, medical assistance, and other basic necessities.
It is our Islamic obligation to reach out and assist those in distress, as the Prophet Muhammad (PBUH) said, "The believer's shade on the Day of Resurrection will be his charity." (Bukhari and Muslim)
We are calling upon our Muslim community to come forward and generously donate to help those affected by the earthquake. Your contributions, no matter how small, can make a big difference in the lives of those in need.
Together, let us be the helping hand that reaches out to those who are suffering. Let us show the world the true essence of Islam - compassion, love, and kindness.
MKMA will be organising a two weeks emergency appeal to help those affected by this tragedy.
The funds collected will be forwarded to a well-trusted UK charity that works on the ground in the affected areas of North Syria and South Turkey. This charity has a proven track record of providing effective and efficient aid in times of crisis and we have complete faith in their ability to deliver the aid where it is most needed.
May Allah (SWT) bless your efforts and grant you success in this noble cause.
Regards,
MKMA Trustees